You have styled the best bathroom ever and installed the best bathroom taps and luxury is your thing.
Because of this, after a hard days work you always long to get home.
Let me tell you, there's nothing that can beat a long, leisurely bathe in a luxurious hot bath to relieve away the stresses of the day, that is, unless your dirty bathtub is one of the things which you are stressed about.
Tubs appear to be magnets for grime, soap scum, and mildew, not forgetting stubborn stains.
It is a known reality that a stained or dirty bathtub makes the entire bathroom to feel untidy.
The good news is, with only a few simple household ingredients and the following useful tips; it is possible to learn how to clean a tub properly.
Diligence is vital. After showering, use warm, clean water to rinse the bathtub and then use a soft sponge, squeegee, or microfiber cloth to wipe off excess moisture.
To get rid of tougher stains, make a hot tub cleaner paste of two parts baking soda to one part hydrogen peroxide. Rub the paste on the stain and allow it to stand for half-an-hour to one hour, then wipe and rinse. If needed, repeat until the stain disappears.
For a much deeper clean, grab the best bathtub cleaner, white vinegar. Take a spray bottle and fill equal proportions of warm water and vinegar solution. Spray the bathtub surface, allow it to stand for fifteen minutes, and then use a sponge or microfiber cloth to wipe. Use clean water to rinse and wipe once more.
You can use a paste of borax powder and lemon juice to treat rust stains. Use borax to sprinkle on the stains and then use the one half of a lemon to rub the stain until paste forms. Allow the paste stand for fifteen to thirty minutes, then wipe and rinse.
There are arrays of commercial tub cleaning products on the market.
Some of the widely used ones include Clorex OxiMagic, OxiClean, Scrubbing Bubbles and Clorox Clean-Up.
Commercial stain removers include CLR Cleaner and Lime-A-Way.
You should read and adhere to the directions of the manufacturer.
Some additional things to consider:
Avoid using scouring powders, steel wool or very abrasive brushes, since these products will scratch the surface.
You should not mix tub cleaning products. Certain mixtures of chemicals, ammonia and chlorine bleach for instant, can burn your skin or remove toxic fumes.
When working with chemicals, always ensure the area is well-ventilated. You have to wear rubber gloves to protect your skin.
Bleach and hydrogen peroxide will discolor fabrics, so make sure that you put on old clothes when you use any tub cleaning products that contain these chemicals.
Wipe and rinse away cleaning products to ensure that they do not leave any residue in the bathtub.
Once again, taking a proactive approach, rinsing and wiping down the bathtub after bathing, is the best tub cleaner solution to prevent stains, grime, dirt and soap scum from messing up your otherwise soothing bathe.
As soon as your bathtub is shiny, you may need to devote a bit of time removing mildew from the hard to reach areas of your bathroom.
With so many tub cleaning products out there, it is difficult to figure out what is good for your bathtub and what products may damage it.
Professional bathtub installers and house cleaners give these tips on the best way to clean bathtub:
Weekly bathtub cleaning
Many bathtubs tubs will stay clean if frequently maintained.
Clean your tub weekly to prevent the buildup of stains and soap scum. To prevent mildew and stubborn water spots from forming, use a squeegee or towel to dry the bathtub after use.
Remove toys, bath mats, and products after it drains, since rust forms when water is trapped.
Unluckily, there is no "one size fits all" "formula for cleaning tubs. You need to know what type of tub you have before applying harsh tub cleaning products and chemicals.
How to clean porcelain tubs
Many tub cleaners are safe for porcelain.
For discoloration and stubborn stains, experts recommend that you mix a bleaching powder, such as Comet or Ajax, with water to form a thick paste.
Then, scrub the area that is affected and allow it to the sit for thirty to forty-five minutes, rinse and repeat if needed.
For extreme situations, you can use a handheld bathtub cleaning brush, porcelain sandpaper or a heavy-duty sponge.
How you can clean acrylic bathtubs
Acrylic is a well-known material since it can be molded into unique shapes by manufacturers, which proves particularly handy for big, freestanding soaker tubs.
It can offer the classic look of a clawfoot bathtub without the weight of cast iron.
Tub refinishing firms also make bathtub liners with acrylic or utilize it in spray form to coat an old bathtub.
While most forms exist, acrylic bathtubs tubs share a common quirk: Property owners have to be cautious regarding how they clean them.
Utilizing the wrong product can cause damage to the surface, making it dull, and perhaps void the warranty of your acrylic tub.
Do not use abrasive cleaners on an acrylic bathtub
The tub cleaning products you can use to clean an acrylic bathtub differ from manufacturer to manufacturer.
This will make fighting residue and tough stains that a lot harder.
When you use an acrylic bathtub cleaner, never use cleaners in solvents or aerosol cans, which include acetone.
Because they scratch easily, abrasive wire brushes and scrubbing pads are out of the question.
Choose the right bathroom tub cleaner
Most bathtub cleaners say whether they are safe for use on acrylic bathtubs on the package.
Refinishing companies and tub manufacturers also, list which tub cleaning products are safe for their products on the internet and in the care part of the product's instructions.
Usually, green cleaning products are safe and also most multipurpose cleaners.
Some businesses suggest a vinegar-water solution of 50/50 only for tough stains; however, others advise against it.
You can try cutting a lemon in half and rubbing it over the area with tough stains until the hard water deposits loosen.
Use water to rinse, and then use a microfiber cloth to wipe the area.
Taking care of an acrylic tub
Clean your bathtub weekly to stop tough stains from developing.
Nearly all refinishing companies and manufacturers suggest using a soft sponge and antibacterial dish to scrub the bathtub.
Always keep lit cigarettes far away from your acrylic bathtub.
Acrylic surfaces can get permanently discolored by tobacco.
When doubtful about maintaining or cleaning your acrylic tub, get in touch with the manufacturer or installation contractor.
Telescopic Tub & Tile Scrubber
Use this scrubber to clean your bathroom from top to bottom without difficulty.
If you have ever felt as if you wanted a third arm to have the housework done, you will adore this helpful cleaning tool.
The detachable brush head features durable, stiff bristles that easily get rid of the toughest buildup.
Its telescopic pole handle extends from 29.5 to 55 inches in length, allowing you to get to every area of your shower.
A telescoping pole handle is a valuable tool for people with disabilities, limited mobility, or anybody who wants a quick way in their bathroom cleaning routine.
No need to strain, stretch and bend, just to remove mildew, lime buildup, soap scum and mold.
Product details:
Simple grip handle. Light-weight and user-friendly.
Perfect for people with limited movement. Eliminates the need to strain and bend.
Round bristle head. Gets rid of mildew, limescale and mold.
Utilize with any cleaner. Strong brush head withstands heavy-duty scrubbing.
Extends from 29.5 to 55 inches. Reach every part of your shower.
The four best bathroom tub cleaner for acrylic bathtubs
When you purchase an acrylic bathtub, you intend to enjoy your investment forever.
And while your bathroom renovation contractor most likely explained how simple the tubs are to maintain, there might be instances when you need to spruce up the surface.
Acrylic tub cleaner is affordable (and easily available).
Examples of cleaners include:
Baking soda
You can sprinkle baking soda around your shower or bathtub and use a non-abrasive cloth to scrub the surface gently.
This is an effective option for removing stains.
Liquid dish soap
To utilize soaps as acrylic tub cleaners, just apply a generous amount inside the tub and allow it sit for ten to fifteen minutes.
Later on, use a damp cloth to wipe it, and then use warm water to rinse the bathtub. Name-brand dish soaps like Ivory, Palmolive, and Joy are great choices.
Bleach and water
For a terrific disinfectant and cleaner, you can take a bucket and mix 1 part bleach and 2 parts hot water.
Take a sponge and soak in the solution and gently wipe down the bathtub, then use warm water to rinse your shower or bathtub.
Vinegar and water
You can get a perfect solution when you mix 1 part vinegar and 2 parts water in a spray bottle.
The vinegar cuts through the oil and dirt and leaves a streak-free glow on the surface of your shower or acrylic tub.
As an added benefit, it is all natural.
While these acrylic tub cleaners are for acrylic tubs all superb choices, there are lots of others that work equally well.
But acrylic products are not designed to withstand abrasion. Gritty cleaners, scouring pads, and related abrasive cleaning products may cause damage to the surface of your tub.
As a safeguard, it is best to look at cleaning product labels before using to make sure they are safe for acrylic products.
How to clean fiberglass bathtubs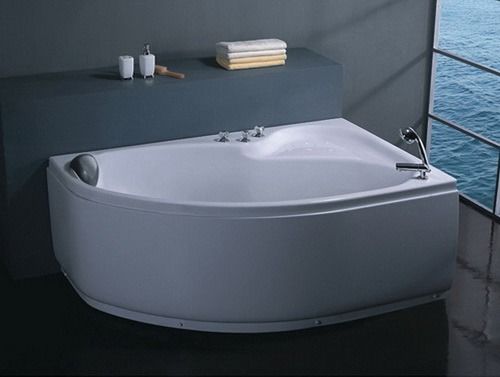 Use non-abrasive bathroom cleaners, dishwashing liquids or bathtub cleaning liquid to clean fiberglass tubs.
For fiberglass tub cleaner, it is recommended wetting baking soda using water to form a paste.
Rub the paste on a bathtub cleaning brush or sponge to clean.
For stubborn stains, allow the cleaner sit for one hour.
To remove tough stains such as oil-based paints, adhesives, and tar, you can use acetone nail polish remover.
You can apply the acetone using a cotton ball, and then rinse it off.
Cleaning the bathroom may seem a little bit challenging at first, cleaning the toilet needs different methods and products compared to cleaning the shower, and cleaning all the bathroom tiles can seem very complex.
Never worry; here are a few best tub and tile cleaner methods that make the task simple and effective.
Steam Cleaning Your Bathroom
You can use a steam cleaner on various surfaces in your home, on materials from ceramics to carpets, and it can get rid of built-up grime.
By heating the material, a steam cleaner opens up pores in the surface of the material to release the most snugly held dirt.
All you should do is apply steam to the surface of the tile, and then wipe off the muck.
DIY Cleaning Solutions for Cleaning Bathroom Tiles
The easiest recipe to make your own cleaning solution for tiles is to dilute a mixture of baking soda and vinegar in water.
Take an empty spray bottle and put the solution.
The vinegar plays the role of a degreaser, while the baking soda scours the surface and removes odors.
For better outcome, the solution must be left on the tiles for one minute to dissolve the build-up completely and then has to be wiped off with a using a damp microfiber cloth.
A more effective homemade mixture consists of a bicarbonate of soda and a paste of bleach.
Bleach works as a disinfectant and will whiten your grout and tiles back to their original tone; however, can give off some very unpleasant gases.
If you choose to use bleach, then work cautiously in a well-ventilated place with gloves and perhaps a mask.
After you have applied the mixture, leave it on for about an hour before washing it off.
Products for tile cleaning
If making your own cleaning solution on your own appears to be too complex, do not worry, there are many professional products available to make your work easier.
Make sure you adhere to the product's instructions and to utilize it in a well-ventilated area, and also protect your hands with gloves.
To make sure that you have a thorough clean, operate the shower on a high temperature for some time before you start cleaning, since this works in the same manner as the steamer to open ceramic pores, helping to make the surface simpler to clean.
Tile cleaning may be simple and fast with the correct methods and products, try it for yourself!
Fiberglass tubs are another inexpensive option with regards to bathtubs.
They are made with layers of fiberglass reinforcements, surface coat, and polyester resin, and are less durable also.
You need to be careful when you are cleaning your fiberglass tub since they are not durable similar to other materials and the surface can easily get scratched or cracked.
The finish also is likely to fade away with regular use.
Cleaning tips:
You can clean your fiberglass tub with the aid of a shower or fiberglass tub cleaner mixture as described in the steps below:
In a part of hot water, mix half a cup of your dish soap and a good amount of baking soda.
A paste will start to form when you mix the components.
Keep adding baking soda to the mixture until it can stick on the bathtub wall.
Apply the mixture on the tub using a sponge and let it stand for half-an-hour or more.
After 30 minutes, wait and scrub the tub vigorously.
Use cold water to rinse the fiberglass tub and then use a paper towel to wipe away the excess water.
Now you can utilize a magic eraser to wipe away all the dirt and stains once more.
Nothing interferes with a rejuvenating shower like a slow-draining tub.
And that dripping water is also prone to leave a ring of dirt or soap scum that is tough to clean.
The cause of this dirty and unpleasant situation often a clump of hair accumulated in the drain pipe a couple of inches below the stopper.
Luckily, it is simple and fast enough remove the drain plug and remove that unpleasant mess.
So act on the following tips to unclog bathtub and enjoy a satisfying shower experience once more.
Tools and materials needed to unclog bathtub:
Liquid dish soap
4"1 screwdriver
Wire cutters
Trash bag
Utility knife
Needlenose pliers
Rubber gloves
Metal coat hanger or 12 gauge wire
Step 1
Use your wire cutter to cut a straight 6″ part of coat hanger or 12-gauge wire. Use your needle-nose pliers to grab one end of the wire, about half-inch, bend it up to make a small hook.
You need roughly ½ inch-wide U-shaped hook so hair will not fall off as you remove it.
Step 2
If your bathtub has a stopper, there are different techniques to remove it, based on type.
Taking out a drop stopper that you twist half a turn to pop down and close, you need a screwdriver.
To remove the bathtub drain plug, raise it as high as you can. Inside, just under the plug, you will find a small screw on the shaft.
Loosen this screw slightly, and the top slides off.
Unscrewing the drain plug will make it easy for you to remove the push/lock drain plug.
The shaft is easily-removed by loosening the screw on the shaft to ensure that the shaft slides up and out.
Remember: You might need to waste a little bit of time with this screw to get the right seal when you reinstall the shaft, so expect to test the seal and make adjustments.
Step 3
You should look inside the drain to see the hair clump. Get a trash bag ready and wear your gloves.
Put in the hook you made to take out and dispose of the hair.
Use your utility knife to carefully cut any remaining hair wrapped around the bars or crosshairs and use your gloved fingers to remove these last pieces.
Step 4
Remove all your stopper parts and tools from the tub and then run the water to take a look at how free-flowing the drain is. Is it draining fast? Proceed to Step 6.
Step 5
Still draining slowly?
Pour some liquid dish soap, up to ¼ cup, into the drain and take a bucket of hot water and pour it slowly to oil the pipes and push any residue down the drain with a bucket of hot water.
If you have got plastic pipes, utilize hot water from the tap only; anything hotter might loosen the pipes.
Boiling water can be used for metal pipes.
In case your drain is still running slow, you may have to use a snake or hire a plumber.
Step 6
Then, replace the stopper and clean the bathtub.
Clean and dry your hook, as well, saving it for clog-removing tasks in the future.
To keep clogs away, use a drain cover and refrain from emptying mop buckets and other liquids likely to have pet hair, dirt, dust, and lint into your bathtub.
Bathtub replacement – Is there an excellent alternative?
Bathtub replacement might be necessary when your tub is simply the wrong color, damaged, worn out, or difficult to clean.
But bathtub replacement has to be done only as a last resort.
Tub resurfacing is an inexpensive replacement alternative which can restore your existing bathtub to a like-new condition in any shade you select.
What is the process?
Bathtub replacement is a job for an expert! It can be both hard and costly!
Remember new bathtubs vary in width from older bathtubs tubs.
What is a bathtub drain plug?
A bathtub drain plug is simply what the name implies, a device that plugs the drain in your tub, letting your tub to hold water.
When you are done showering, you lift this plug to allow the water drain back out.
The simplest kind of drain plug is a rubber plug connected to a metal chain.
Many hardware outlets sell these rubber plugs at a low price.
However, many modern tubs feature one of two kinds of simple mechanisms, which pull out the drain plug for you.
Drain plugs with trip levers
In a "trip lever" kind of bathtub drain plug, the drain plug is connected to a metal arm that extends from the underside of your drain plug and partway up inside the wall of your bathtub, to a switch situated just under your tub faucet.
The arm lowers when you flick the switch up, which pulls the plug tightly against the drain, closing the bathtub.
Flick the switch down to open the plug, which then forces the plug back up.
Drain plugs without trip levers
These bathtub drain plugs are just like the plain rubber plug, apart from you cannot take them out from the drain completely.
Rather, they are permanently housed inside the drain, with just sufficient clearance to allow the water flow out of the bathtub.
These bathtub drain plugs often have a small knob on top that you can grab and pull up to open the drain.
Below are the 6 most popular kinds of bathtub drain plugs:
Pop-Up
Flip-It
Push-and-Pull
Trip Lever
Toe-Touch
Lift-and-Turn